Judith K. Cripe
February 01, 1937 - December 05, 2017
Judith K. "Judy" Shaver Cripe, 80, of Logansport, passed away at 11:30 p.m. Tuesday, December 5, 2017 in Miller's Merry Manor.
Born February 1, 1937, in Logansport, she was the daughter of the late Carl B. and Armeda Frances (Dunkle) Lloyd .
On April 11, 1954, in Logansport, she was married to James Edward Shaver Sr. who preceded her in death.
Judy was very proud when she earned her GED in 1985 from Ivy Tech Community State College, She went on to earn her certification as a Qualified Medical Assistant. She worked in home health care and also as a QMA at Miller's Merry Manor. Previously, she had worked 9 1/2 years at General Tire as a press operator.
Judy was a loyal servant and member of the East Main Street Church of God. She enjoyed all types of crafts and was well-known by family and friends for her exceptional baked goods which she freely shared with everyone.
Surviving are two sons and daughters-in-law, James Edward Jr. and Cheryl Shaver and Joseph Edwin and Sharon Shaver, all of Logansport; several grandchildren, great- grandchildren, nieces and nephews.
She was also preceded in death by one sister, Marcia A. Shepherd; one son, John Kent Shaver; one granddaughter, Christy Sue Shaver; and one brother, Carl Edwin Lloyd.
You may share memories in her guestbook and view her tribute video at www.fisherfuneralchapel.com
Funeral Information
A funeral service celebrating Judy's life will be held December 11, 2017 at Fisher Funeral Chapel.
Interment will follow in the Mount Hope Cemetery.
Friends will be received from 12 to 2 prior to the service at 2 p.m.
Donations Information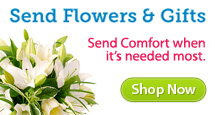 Directions
Visitation: Map to funeral home
Cemetery: Mount Hope Cemetery