Shirley A. (Amelio) Appollonio Peter
January 07, 1935 - May 13, 2017
Shirley A. (Amelio) Appollonio Peter, 82, of Logansport, passed away Saturday, May 13, 2017 at home, surrounded by her family following an unexpected diagnosis of cancer a few days ago that she valiantly fought with every ounce of her being right up to the very end.
Born January 7, 1935, in Logansport, she was the daughter of the late Nicola "Nick" and N. Naureen (Massick) Amelio. Her parents immigrated to America – her father from Italy in 1903 at age 14 and her mother, from Germany, a few years later. Shirley grew up in the residence above the family business, "Nick's Place," as it was originally named when her father began operating the restaurant in January 1924. He purchased the bar in 1939. From the time she was old enough to stand on a milk crate and reach table height, Shirley began rolling meatballs – a delicacy that had received worldwide acclaim. In 1958, her brother Francis, who had assumed ownership, renamed the restaurant and tavern "Amelio's." The family business was sold in 1982 and still bears the Amelio name as an icon in Logansport.
Shirley was a 1953 graduate of Logansport High School and served as class treasurer for over 60 years. She enjoyed meeting with her classmates at monthly dinners.
On January 25, 1956, in St. Joseph Catholic Church, she was married to Alexander Appollonio. Shirley enjoyed being a stay-at-home mom. She and Alex owned and operated Al's Uncle, a restaurant at 401 East Broadway in downtown Logansport since 1968. She filled in at the cash register but following Al's unexpected death at age 41 on March 4, 1976, she and her children showed great determination and resolve by continuing to operate the restaurant until the building was sold in 1978.
On April 3, 1982, while on a motorcycle excursion to South Carolina, she was married to Raymond H. Peter. She called home to see if her family would accept a collect call from Mrs. Shirley Peter. They spent many happy years together. Raymond preceded her in death on November 6, 2001.
Shirley began a career as a pharmacy technician starting at Hook'sat Eastgate through name changes to Revco and CVS and had also worked at Walmart's Pharmacy.
Shirley was a member of the All Saints Catholic Church. While her exceptional cooking skills were used to earn a living in the restaurant business, Shirley found no greater joy than being able to prepare a meal for someone who was ill, a family who was grieving or happy occasions. Her family and friends were important to her. She had the amazing ability to remember and record birthdays and anniversaries and send cards with a personal note and exquisite penmanship (thanks to the Sisters of the St. Joseph Parochial School) up until the week she died.
She was loved by everyone who knew her and will be especially missed by by her son, Tracy Appollonio, of Logansport; three daughters, Jill Appollonio-Jeroski, of Logansport Pamela Appollonio of Kokomo and Mary Vaughn of Logansport; grandson SPC Alex Appollonio U.S. Army and his wife Megan of Logansport; Erin Nowak, who was like a granddaughter to Shirley; four great-grandchildren: Lucas Handschu, Hallee Grace Appollonio, and Kaia and Emalynn Murray; several nieces and nephews; many dear friends; and her beloved feline companion, Bella.
Her family would especially like to thank these special caregivers, Erin Nowak, Alex Appollonio, David Barron and Alice Hudson for their loving medical care of Shirley which allowed her to spend her final days in the comfort of her home.
She was preceded in deathy by one brother Francis Amelio; three sisters, Mildred Wolf, Helena Pfaff and Theresa Harvey; one grandson, Nicholas A. "Nick" Morris and her son-in-law, Ed Jeroski.
Funeral Information
A funeral service celebrating the life of Shirley Peter will be held at 10 a.m. Wednesday, May 17 in Fisher Funeral Chapel with Rev. Dominic Petan officiating. Mike Montgomery will deliver the eulogy.
Burial will follow in Mount Hope Cemetery.
Friends will be received from 4 to 8 p.m. Tuesday, May 16 in the funeral chapel.
Donations Information
Memorial contributions may be made to All Saints Catholic Church, The Cass County Humane Society or the Cass County Historical Society.
You may share condolences and view her video tribute at www.fisherfuneralchapel.com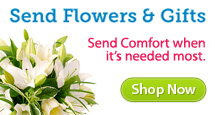 Directions
Visitation: Map to funeral home
Cemetery: Mount Hope Cemetery