Hazel F. Schock
July 23, 1917 - October 24, 2017
Hazel F. Schock, 100, Logansport, formerly of Monticello, passed away at 2:10 a.m. Tuesday, October 24, 2017, in Miller's Merry Manor.
Born in Pulaski County, she was the daughter of the late Otto and Myrtle (Harper) Foust .
On November 21,1966, she was married to Alfred Schock, who preceded her in death July 1, 1992.
Hazel was a Certified Nursing Assistant who had worked over 20 years at White County Memorial Hospital.. She enjoyed crafts and crocheting. She and her husband loved dancing at the VFW in Monticello.
Hazel and her family appreciated the love and care she received at Miller's Merry Manor. The staff, fellow residents and their families and local volunteers who filled her life with happiness the last 5 years.
Surviving are her daughter, Norma Kline; her son, Harold (Ruth Ann) Locke; one sister, Emma Miller; eight grandchildren, Beth Mullins, Melissa (Scott)Wagoner, Amy (Jason) Rossner, Aaron (Kristen)Locke, Jill Mowrey, Andy Scheerer, Brian Kline and Jennifer (Joe) Stewart; six great grandchildren and nine great-great-grandchildren.
In addition to her husband and parents, she was preceded in death by two daughters, Dorothy Scheerer and Anne Arnold; three brothers, Harold "Hap", Ronald and Arnold Foust; and one sister, Viola "Rusty" Amelio.
Funeral Information
A funeral service celebrating Hazel's life will be held at 2 p.m. Thursday, October 26 in Fisher Funeral Chapel.
Burial will follow in the Yeoman Cemetery, in Carroll County.
Friends will be received from noon until 2 p.m. on Thursday in the funeral chapel.
Donations Information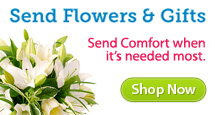 Directions
Visitation: Map to funeral home